Motivating Employees to be their best
The basic premise of this program is that motivation is not something you do to others; people motivate themselves. This program is not about traditional extrinsic motivation techniques such as rewards, incentives, salary, etc. These use a carrot or stick approach that tries to get employees to change their behavior based on external factors.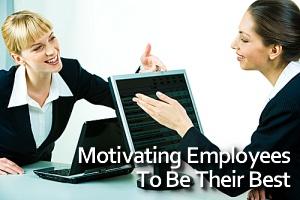 This program is about helping managers and supervisors create the appropriate climate that fosters positive feelings and eliminates obstacles, then employees will be intrinsically motivated. The three elements of this type of climate are community, influence and openness.
The program focuses on providing the skills and techniques you will need to help groups develop a sense of community, to acquire influence over their work-related actions, and to enjoy the openness of shared information and feelings.
Learning Outcomes
Identify major factors that affect motivation
Apply dialog and listening skills that model community, influence, and openness
Take specific actions to foster trust within a group
Model the concept of accountability
Identify inhibitors to fostering group commitment and passion
Teach a four-step process designed to help groups learn from mistakes
Encourage group initiative-taking
Identify and apply strategies for dealing with outside pressures that negatively affect motivation
Match or tailor your leadership style to various employees' motivational preferences
Time required : One Day
Contact: brasov@analytics.ro
For an other Leadership and Management training, you may also see:
First time Manager!
Leading through change
Leading today's workforce
For other soft skills trainings, you may also see:
The art and science of communication